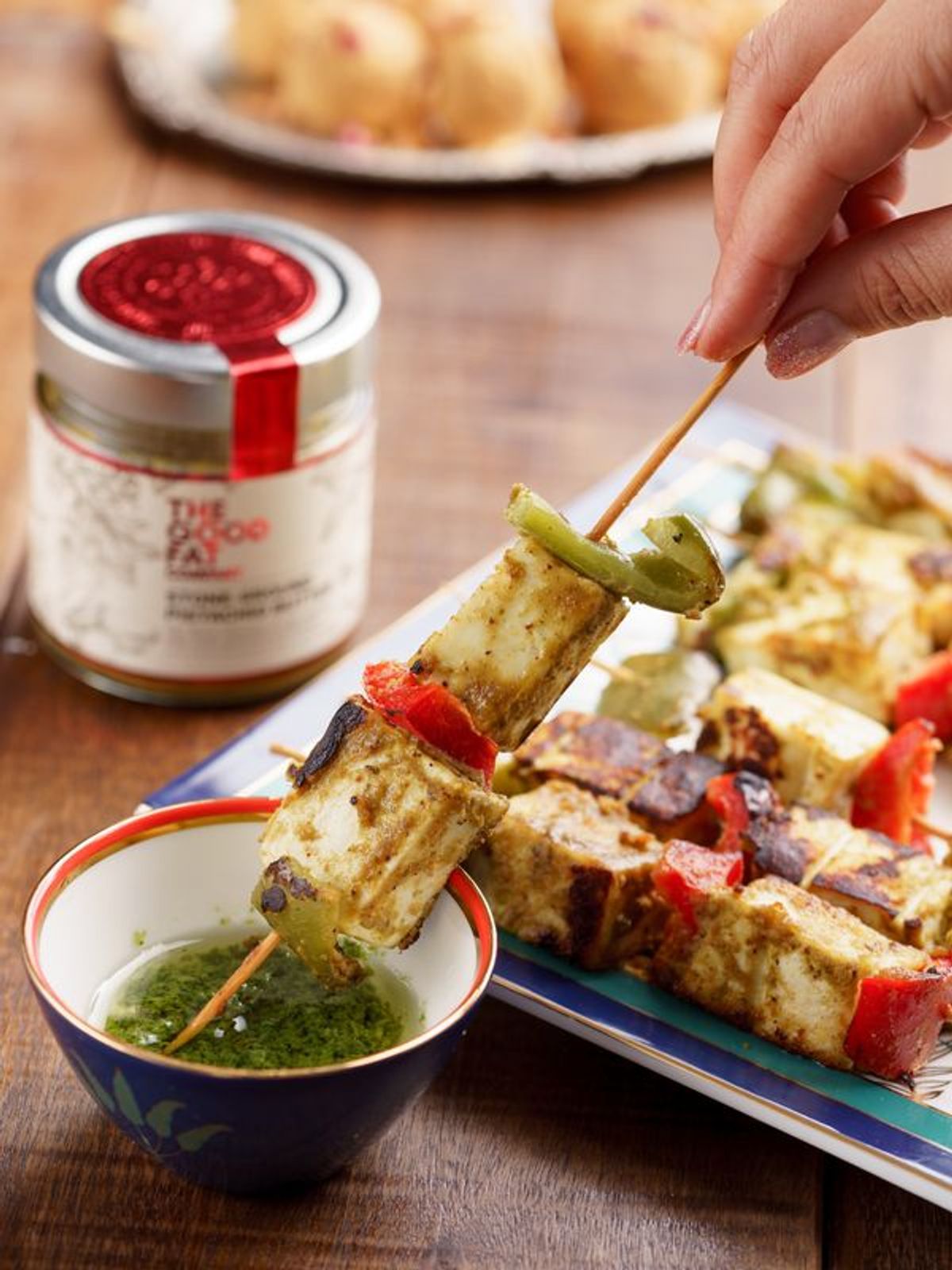 Preparation Time: 30 mins (excluding marination) | Servings: 10 skewers
Ingredients
500g of paneer (cut into large size cubes)
Red and green peppers (cubed)
A large handful or fresh coriander (stems and leaves)
Half a handful of mint leaves
An inch of ginger
2 green chillies
¼ cup of fresh yoghurt
A squeeze of lemon juice
¾ tsp of Chaat Masala
3 generous tbsp pistachio butter Buy it here
Salt to taste
For serving:
10 bamboo skewers (soak in water for 30 mins - to prevent burning)
Mint chutney
Marination
Blend together coriander, mint, green chillies, ginger, lemon juice to a smooth paste without adding any water.
Empty into a bowl, whisk in fresh natural yoghurt, season with salt and add in chaat masala.
Add in 3-4 generous tbsp of pistachio butter and mix well into the marinade.
Mix in the paneer cubes gently into the marinade and let it for rest for a minimum of one hour (60 minutes).
Steps
Start skewering the paneer cubes alternating with red and green peppers.
Pre-heat oven at 180 degrees celcius for 20 minutes.
Place the skewers on an oiled tray (or line with aluminium foil) and grill in the oven for about 30-35 minutes until the edges of the paneer start to brown.
Do not over bake them otherwise the paneer will turn hard and chewy.
Serve hot with mint chutney.