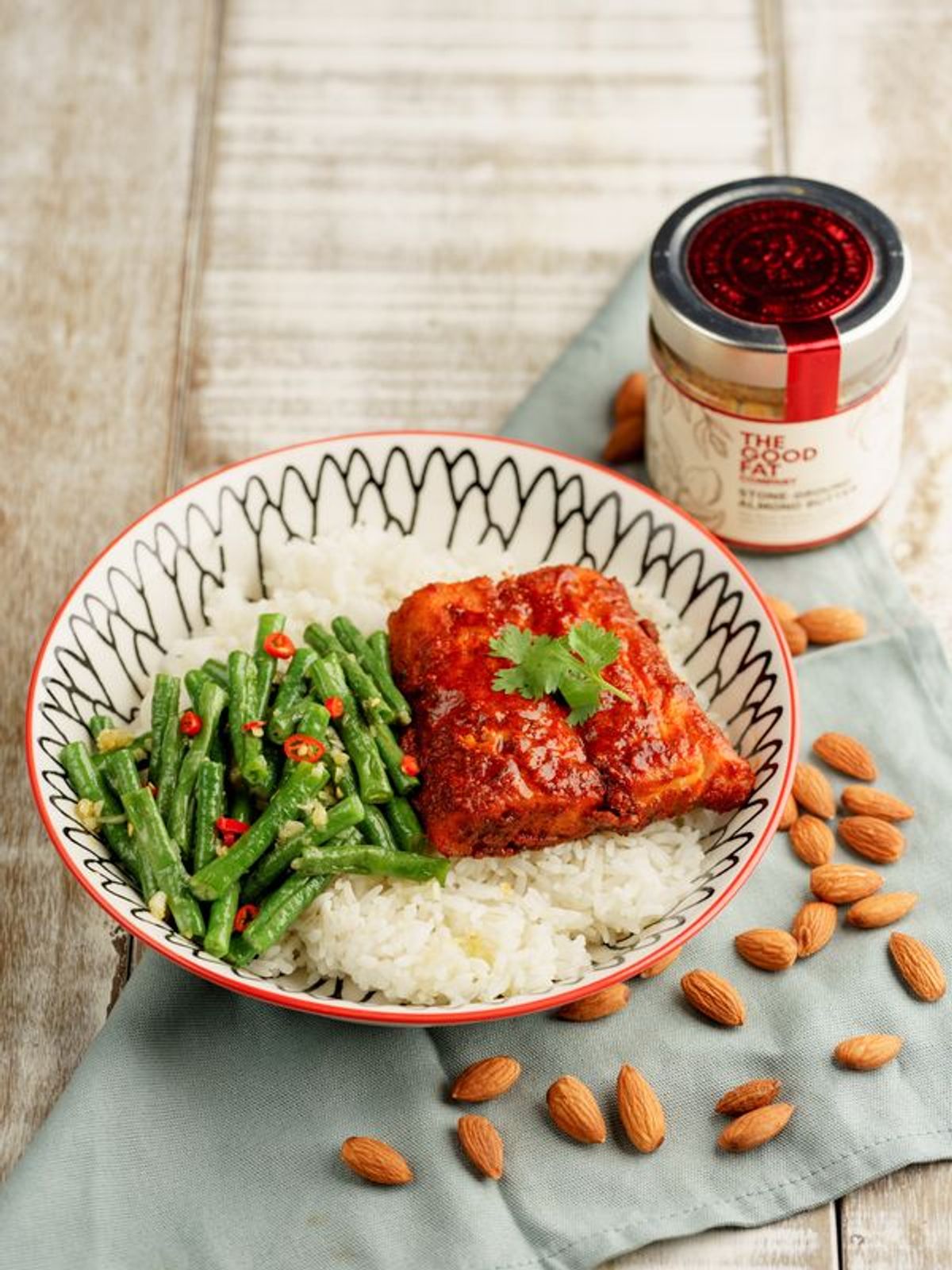 Preparation Time: 15 mins | Cook Time: 10 mins | Servings: 2
Ingredients
2 fillet red snapper or seabass
1 Tbs almond butter Buy it here
1 Tbsp fish curry powder
2 Tbsp chilli powder
1 Tsp brown sugar
1 Tsp belacan, pan roasted and pounded to a powder
1 Tsp salt
Kaffir lime leaves
Coconut oil
Banana leaves to wrap the fish in
Steps
Heat oven to 200C.
Mix the almond butter with the curry powder, chili powder, belacan, coconut oil, sugar and salt. Add in the chopped lime leaves.
Rub this mixture all over the fish fillets on both sides and let sit to marinate for 15mins in the fridge.
Wrap the fish in banana leaves and then roast in the oven for 10mins.
Open the leaves and let the fish cook another 2mins just so it gets a nice char on top.
Macros Per Serving:
Calories: 203 | Fat: 12.3g | Carb: 3g | Protein: 20.7g
Garlic Long Beans
Preparation Time: 5 mins | Servings: 2
Ingredients
1 cup long beans, cut in spears and blanched
1 clove garlic, minced
Oil
Salt
Steps
In a pan quickly cook minced garlic and toss in the long beans.
Season with salt and remove from the pan when coated with garlic.
Optional: Serve with some cut red chillies on top.
Macros Per Serving:
Calories: 79 | Fat: 6.9g | Carb: 4.4g | Protein: 1.1g