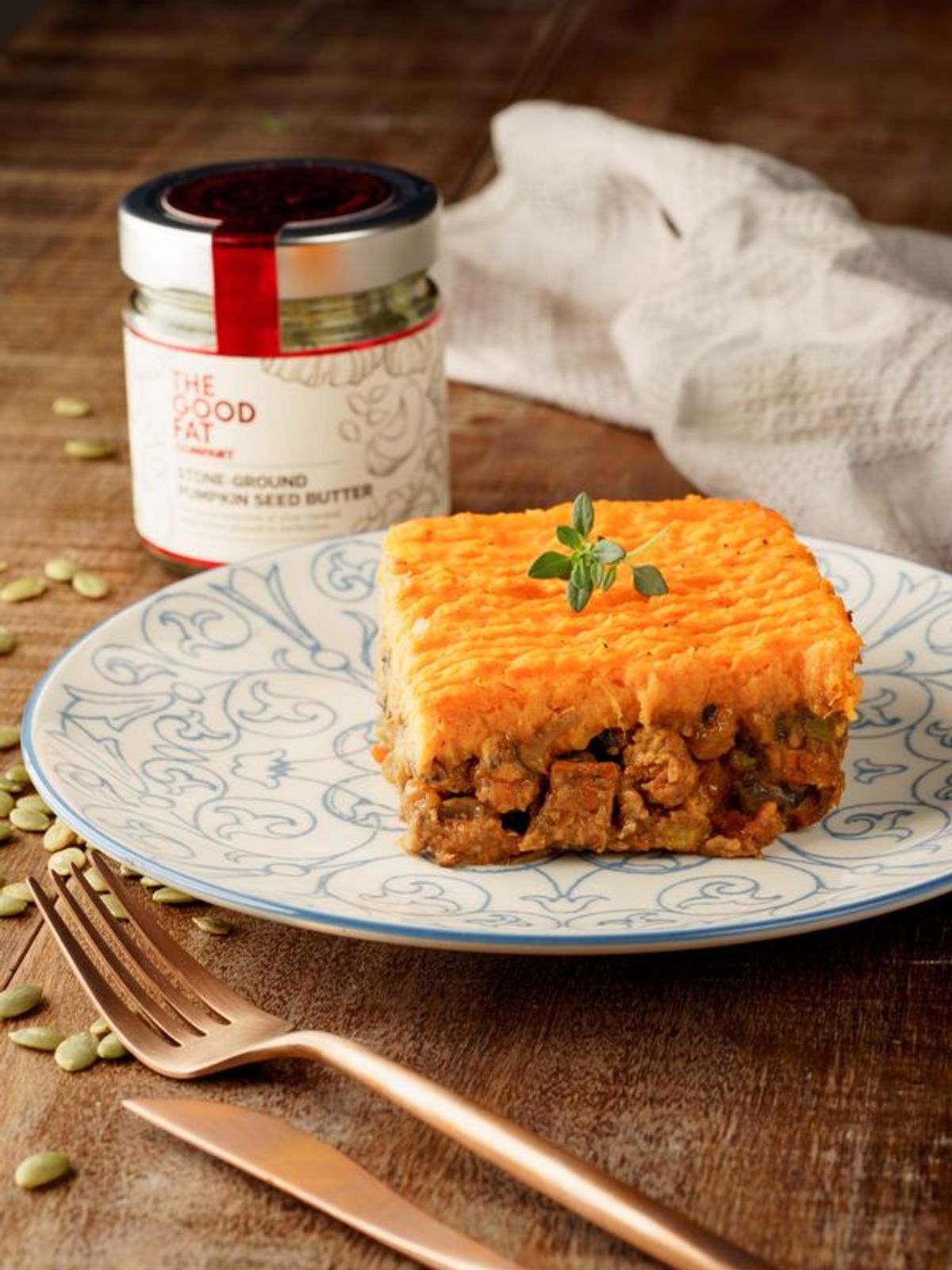 Preparation Time: 15 mins | Cook time: 40 mins | Servings: 8


Ingredients
1 package tempeh
⅓ cup soy sauce
2 cups water
2 Tbs olive oil
1 onion, diced
3 cloves garlic, roughly chopped
1 cup mushrooms sliced
1 tsp dried thyme
1 tsp ground coriander
freshly ground black pepper (to taste)
1 cup frozen green peas
2 carrots, diced
2 cups vegetable stock
¼ cup flour
Potato topping:
2 sweet potatoes
2 russet potatoes
⅓ cup milk
¼ cup pumpkin seed butter Buy it here
salt and pepper (to taste)
Steps
Crumble the tempeh into bite-size pieces in a pan. Add the water, soy sauce, and a teaspoon of oil. Cover and bring to a boil. Let boil for about 10 minutes.
Boil the potatoes then mash till smooth with all the other topping ingredients.
After 10 minutes uncover the tempeh and cook until most of the liquid has evaporated. Set the tempeh aside.
In another pan, heat the remaining olive oil and sautee the onions for 5 mins. Then add in the garlic and cook for another minute. Add the tempeh back in with the mushrooms, spices and carrots. Cook till everything is tender and well coated with the sauce. Pour in the frozen peas.
Combine the vegetable broth and flour. Mix well until there are almost no lumps.
Add to the pan and stir for about 3 minutes until nice and thick. It will get thicker as it bakes.
Pour the mixture into a casserole dish and spread the potato topping on to it evenly.
Bake in an oven at 180C for 20mins or until the potatoes brown slightly.
Macros Per Serving:
Calories: 250 | Fat: 11.8g | Carb: 27.8g | Protein: 10.2g